ABN Asia is a leader in the field of Artificial Intelligence (AI) development. Our AI services are designed to help businesses increase their competitive advantages and achieve success. Our team of experts leverages cutting-edge technology and deep industry knowledge to deliver AI solutions that are tailored to meet the unique needs of our clients. Whether it's automating routine tasks, improving decision-making processes, or enhancing customer experiences, ABN Asia is at the forefront of AI development and is committed to helping our clients stay ahead of the curve. With our AI services, businesses can expect to see improved efficiency, enhanced productivity, and a competitive edge that sets them apart from the rest.
We offer the creation of a fully-fledged chatbot for your business's social media and messaging platforms, including Instagram, Facebook, Telegram, and WhatsApp. Using ManyChat and ChatGPT, we can connect the chatbot to OpenAI's API, allowing it to respond to customer inquiries and messages with artificial intelligence. This AI chatbot is an efficient and cost-effective way to provide personalized customer support, saving time and resources while improving customer satisfaction.
Whether you run an online or retail store, a real estate agency, a hotel or restaurant, or any other type of business, our chatbot can be customized to fit your specific needs. With its seamless integration into your existing platforms, like WhatsApp and Instagram, the chatbot acts as a messenger bot, providing a convenient and convenient way for customers to get in touch with you.
Don't miss out on the benefits of using a chatbot for your business. Our service includes the setup and implementation of a fully-functional chatbot, using tools like ManyChat and ChatGPT to ensure optimal performance and reliability. With our chatbot, you can provide round-the-clock customer support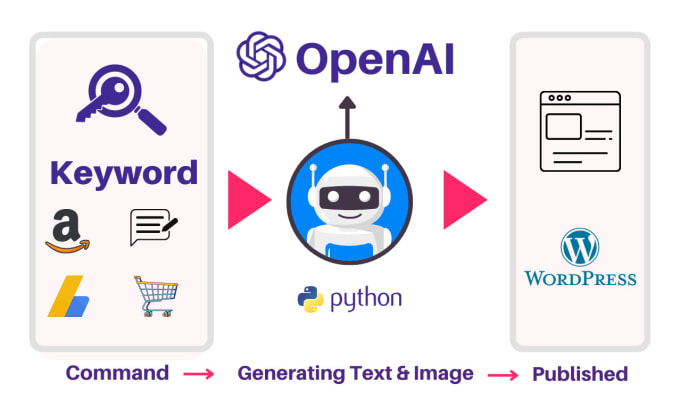 Few things to note:
There are other writing tools currently in the market as well for example (1) Jasper (2) Rytr (3) Closerscopy just to name a few which are also leveraging the power of ChatGPT but they are expensive and provide very few words as compared to Openai ChatGPT (675k words for $18).
We will build for you an OpenAi ChatGPT powered Ai writing web application that will leverage all 675k words and once you consume your 675k words, you will only have to pay $18 to Openai in order to use those 675k words again.
Furthermore, we can leverage the power of OpenAi ChatGPT to build more web applications such as
Aspect-based Sentiment Analyzer
Generate product Description
Information extraction from Products
Name Entity Recognition
Prompt Design
Intent Detection
Text summarization
Leverage Ai. Be successful.
AbnAsia.org Software. Faster. Better. More Reliable. +84945924877 (Asia# Mobile, WhatsApp, Telegram, Viber, Zalo); +16699996606 (US# Mobile, WhatsApp, Telegram)
[email protected]