ABN Asia is a leader in the field of Artificial Intelligence (AI) development. Our AI services are designed to help businesses increase their competitive advantages and achieve success. Our team of experts leverages cutting-edge technology and deep industry knowledge to deliver AI solutions that are tailored to meet the unique needs of our clients. Whether it's automating routine tasks, improving decision-making processes, or enhancing customer experiences, ABN Asia is at the forefront of AI development and is committed to helping our clients stay ahead of the curve. With our AI services, businesses can expect to see improved efficiency, enhanced productivity, and a competitive edge that sets them apart from the rest.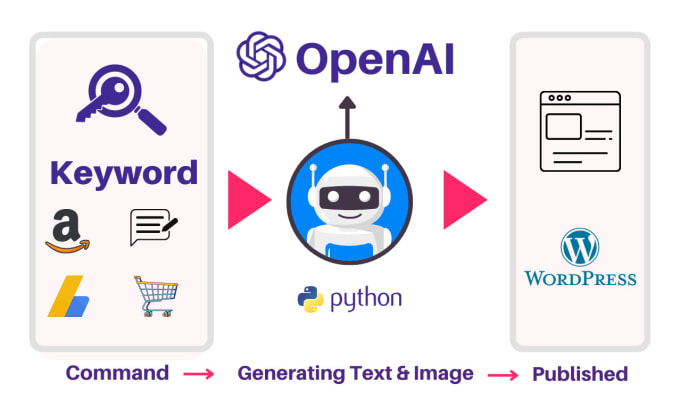 If you want to make a large content blog you need to hire a large content writing team, which is too costly.
That's where we came in: We offer an automated writing robot that writes and publishes SEO-friendly and Automated content for you with OpenAI ChatGPT.
Which features will you have in this?
Input Keyword command to write articles.
Direct website publishing.
SEO friendly Content.
Automatic copyright-free image creation.
Using powerful OpenAI ChatGPT system.
Unlimited content publishing.
Bulk amount keyword inputting.
You will have an Auto AI Writer for your website, that writes and publishes articles automatically with the topics that you want it to write about.
With AI-powered writing tools, you can easily create engaging, informative, and keyword-rich articles, product descriptions, emails, and much more that will help improve your website's traffic and search ranking.
Few things to note:
There are other writing tools currently in the market as well for example (1) Jasper (2) Rytr (3) Closerscopy just to name a few which are also leveraging the power of ChatGPT but they are expensive and provide very few words as compared to Openai ChatGPT (675k words for $18).
We will build for you an OpenAi ChatGPT powered Ai writing web application that will leverage all 675k words and once you consume your 675k words, you will only have to pay $18 to Openai in order to use those 675k words again.
Furthermore, we can leverage the power of OpenAi ChatGPT to build more web applications such as
Aspect-based Sentiment Analyzer
Generate product Description
Information extraction from Products
Name Entity Recognition
Prompt Design
Intent Detection
Text summarization
Leverage Ai. Be successful.
AbnAsia.org Software. Faster. Better. More Reliable. +84945924877 (Asia# Mobile, WhatsApp, Telegram, Viber, Zalo); +16699996606 (US# Mobile, WhatsApp, Telegram)
[email protected]