Ramco ERP Drives Digital Transformation at PT. Cipta Krida Bahari (CKB Logistics)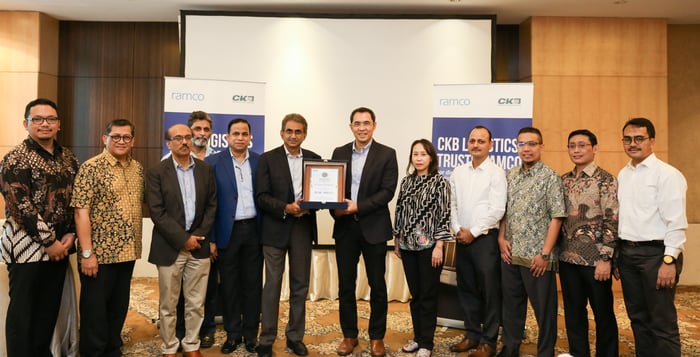 Ramco ERP Drives Digital Transformation at PT. Cipta Krida Bahari (CKB Logistics)
Indonesia's leading logistics service provider, PT. Cipta Krida Bahari (CKB Logistics), has gone live with Ramco ERP for Logistics to digitize its supply chain, financials and warehouse operations.
Targeted at third-party logistics providers, freight forwarders and courier service providers, Ramco's multi-functional Logistics Suite will be covering modules to manage finance, rating and billing, assets, transportation and warehousing at CKB Logistics. The mobile-enabled solution also offers capabilities such as auto put away and auto picking configuration and end-to-end resource management that will enable CKB Logistics to track shipments, carry out warehouse operations and monitor costs, efficiently.
About PT Cipta Krida Bahari (CKB Logistics):
CKB Logistics, a subsidiary of PT. ABM Investama, Tbk., is an integrated logistics services company and has served a number of leading companies in the energy and non-energy sectors with a wide range of services, namely a number of more than 50 operational network locations spread throughout the region Indonesia, including Sumatra, Java, Kalimantan, and also Eastern Indonesia such as Sulawesi, Ternate, Ambon, and Papua.
3PL, 4PL companies: Inquiry about RAMCO's services in Vietnam: [email protected]
AbnAsia.org Software. Faster. Better. More Reliable. +84945924877 (Asia# Mobile, WhatsApp, Telegram, Viber, Zalo); +16699996606 (US# Mobile, WhatsApp, Telegram)
[email protected]